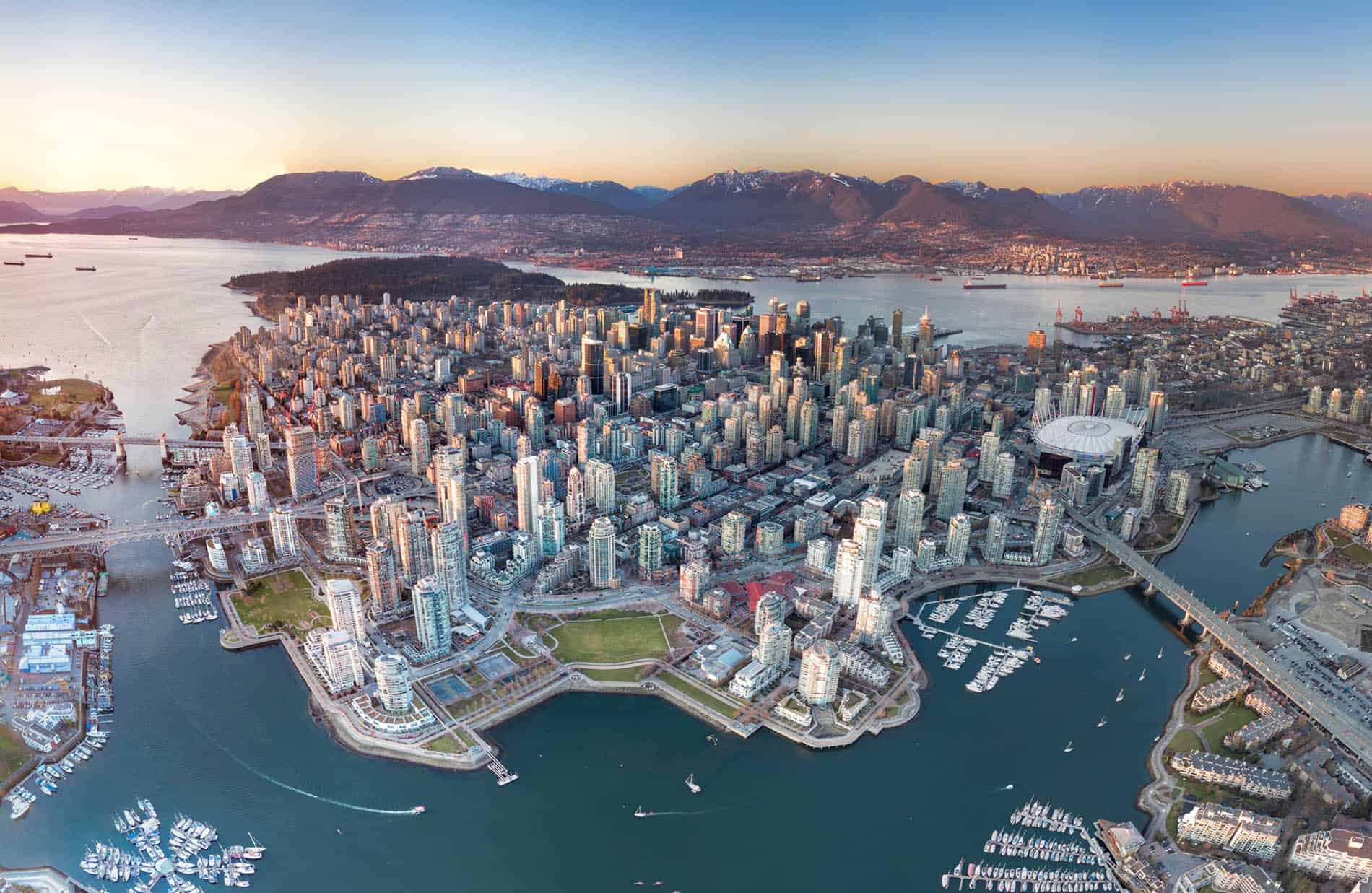 Taste of Vancouver, Coast & Mountain
from
Nestled between a rainforest, mountains and the Pacific Ocean on Canada's west coast, Vancouver is an unexpected jewel. Sophisticated, vibrant, and breathtaking, Vancouver is consistently ranked as one of the world's most livable cities. Inclusive, energetic, and genuine, Vancouver is your gateway to nature, adventure, culture and leisure. Also don't miss the elegant Victorian garden city, experience the Middle Aged British classical style and enjoy English Afternoon Tea at The Fairmont Empress Hotel; walk around the relax inner harbor and Royal B.C. Museum. Moreover, Whistler is world class summer and ski resort, where 2010 Winter Olympic Game were held. There are lots outdoor activities for you to try.
Vacation Style

SIC Tour

,

Uncategorized
All about Taste of Vancouver, Coast & Mountain.
Highlight
Vancouver | Victoria | Whistler
Follow historical footprint of Gastown from John Gassy Jack single tavern to whistling Steam Clock, realized Fairmont Hotel Vancouver the elegant hotel dating from 1939, discover Stanley Park, this over 400-hectare haven is recognized as one of the greatest urban Park in the world, walking through Granville Island, search artists' works or farmer organic foods. Morning Golfing and Nighttime ski at Mountain hill, definitely you should have an authentic experience on this gourmet paradise "Vancouver"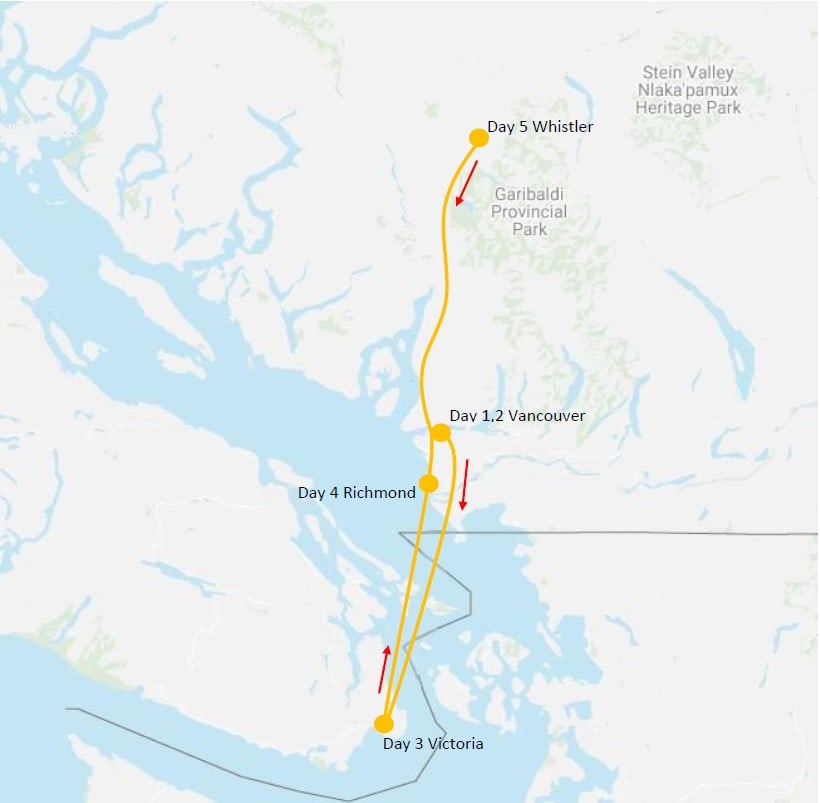 Day 1

Vancouver

Upon arrival at Vancouver International Airport, collect your luggage, then head to tonight's accommodation on your own either by taxi, limo or The Canada Line (skytrain rapid transit line), explorer Vancouver begin now.

  Accommodation suggestion
  Sheraton Wall Center Hotel (4 ) or more selective

Day 2

Vancouver

Join a city tour this morning. In this short 4-hour tour, you will visit famous tourist attractions including China Town, Gas Town, Canada Place, Stanley Park, Lions Gate Bridge, Granville Island as well as the famous Vancouver Lookout, let you from 360º panoramic viewing deck 169 metres above sea level to viewing harbour and Coast mountains, than discover Robson street and Pacific Center which epicenter of cutting-edge fashion & shopping area,  don't forget variety foods at restaurants, bars, bistro in Vancouver, spend on your own enjoy gourmet!

Day 3

Vancouver - Victoria

Depart from the hotel to Victoria today. The bus will take you to the Tsawwassen ferry terminal. After about 1 ½ hours of sailing across the Strait of Georgia, arrive in Vancouver Island, you will visit world renowned Butchart Garden, enjoy free time in this 55 acre private land, take as many pictures you would like, and just make sure you have enough memories from it, than arrive Victoria downtown, spending time at Inner Harbour, Fisherman's Wharf Park and Parliament building, if you are pursuing British style don't miss famous Afternoon Tea at Empress Hotel. (Overnight in Victoria)

  Accommodation suggestion
  Hotel Grand Pacific (4 ) or more selective

Day 4

Victoria - Vancouver

You can explore this garden city on your own, visiting Royal B.C. Museum where there is always a feature exhibition each season, Beacon Hill Park and Miles Zero another must to see places. Take any schedule bus for returning back to Vancouver or try seaplane another option offers a unique opportunity to view Victoria, the Gulf Islands, Active Pass and downtown Vancouver from the air. This 35-minute excursion from downtown Victoria to downtown Vancouver is the perfect finish to an unbelievable day of sightseeing!  . (Overnight in Vancouver)

  Accommodation suggestion
  Shearton Vancouver Airport (4 ) or more selective

Day 5

Vancouver – Whistler

Morning departure by bus for Whistler. Join us in our mountain paradise. Enjoy the breathtaking views and scenic stops along the thrilling Sea-To-Sky Highway. Feel the mist of the spectacular 335-meter Shannon Falls as you walk on the viewing deck.  Once in Whistler, there is ample time to dine, shop, ride a bike or stroll the trails. Seasonally, you can experience the new Peak 2 Peak Gondola between Whistler and Blackcomb Mountain, spend an afternoon exploring downtown shops and cafes, hiking along nature trails, or relaxing and breathing in the fresh mountain air. (Overnight in Whistler)

  Accommodation suggestion
  Hilton Whistler Resort (4 ) or more selective

Day 6

Whistler - Vancouver

Depart from Whistler on the scheduled bus you choice, savoury the beautiful views and overlooking Howe Sound back to Vancouver, you can continue another tour or concluded your West Coast journey.
Add-ons
Vancouver by E-Bike (4h)
An easy ride passing by Vancouver's best beaches … Highlights the best of Vancouver including Stanley Park, English Bay, False Creek, Chinatown and Gastown in a shorter route than our Grand Tour. Electric Bikes make the experience a breeze for all fitness levels.  Must be able to ride a normal bike and age over 16+.
Grouse Mountain + Capilano Suspension Bridge (6.5h)
Get outside, breathe in the fresh pacific air, and immerse yourself in the natural wonders surrounding
Vancouver, with a visit to Capilano Suspension Bridge, the Capilano Salmon Hatchery and Grouse
Mountain. This tour is all about adventure, as you take in the natural wonders surrounding Vancouver & the
Burrard Inlet. Begin with a traverse through the green urban oasis of Stanley Park, and across the historic Lions Gate Bridge to Vancouver's North Shore.
Whale Watching  (3h)
The rich marine wildlife of beautiful southern Vancouver Island is world renowned for its abundance and diversity. Killer Whales are magnificent and never fail to impress, but there are many other living treasures that share their waters. Bring your camera and your excitement because we are going to provide you with a trip you will remember forever!
From a romantic vacation getaway for just the two of you to a family vacation trying to get around town with kids, or you simply just want to travel in style; Everyone has different needs when it comes to selecting a rental car.
If you need help, please watch our guide on "How do I select my Car Rental" by clicking on this LINK, and let us help you by making it less stressful on you.